Tournament Details
---
MARINA: CATFISH BAY (Kingston, OK)
Off Limits begins 11:59 pm on Sunday, August 28th. Official practice days are Thursday, September 8th, from 6:00 am – 7:00 pm, and Friday, September 9th, from 6:00 am – 5:00 pm. Teams must be off the water by the scheduled time each day.
Balances can be paid anytime between now and Sunday, August 28th, so please don't wait. Get online as soon as possible and get it done. Your will login using the login created for your team and complete your registration and pay the balance due. Whoever is listed as "Angler 1" on the registration for this event must match the credit card information used for payment of the balance.
Friday Night (DINNER)
Lake Texoma State Park (Catfish Bay) at the Rally pavilion. Here is the link to the Park https://www.travelok.com/state-parks/lake-texoma-state-park
Please see the map below. The pavilion area is marked. 
Attendance is required.
Dinner will begin at 6:00 pm.
After dinner, we will review the rules, give an overview of our season and what to expect with TTO ProTeam.
You'll have the opportunity to ask any questions regarding ProTeam. We want to be sure that everyone knows what to expect and how the season will run. We're trying to give information out as best as possible, but feel free to ask questions if we miss anything. We're excited to have your team onboard with us for our inaugural season.
You will also receive your boat number and fishing times at the dinner. Your boat number will remain the same throughout this tournament.
Substitutions

You are allowed one substitute for the season.
If you have a substitution, please email Pamela Wilson at pamel.wilson@tto-tx.com with your substitution's name, email, and phone number. We want to be sure that we have contact information should we need to notify teams of anything during the tournament.

Off-Limits

Off-limits begins 11:59 pm August 28th. You may not be on tournament waters for any reason.
During the official off-limits period, no team shall be on tournament waters for any reason. No team may walk the shoreline, access any structure that is open to the water, or use any kind of aviation fly-overs, including the use of drones.

No-Info Rule

Other than using publicly available information (e.g. newspaper reports and internet reports) No fishing information may be purchased, bartered, solicited, or received from any person who entered official tournament waters during the established off-limits period.
For full copy of the rules, please check the website at https://tto-proteam.com/rules/

Saturday and Sunday

Controlled take-off from Catfish Bay Marina
We will have the National Anthem and a prayer, and then release you by boat number.
All-day parking is $10 and can be paid via the Park's app. There are signs throughout the park with the information needed.
If you are camping at the Park, you will not need to pay the parking fee (it's included in your camping fees).

Fishing License

You MUST be licensed to fish Texoma by either having both Texas and Oklahoma fishing licenses
OR, Lake Texoma fishing license

The easiest way to buy a Lake Texoma Fishing License (Type 208) is online, and it is provided by both states. You can purchase a lake Texoma Fishing License online or at retailers such as Walmart, Academy, and other fishing tackle and bait shops close to and around the lake in either state. No matter where you buy one, it costs $12 and is valid until December 31.
Oklahoma Department of Wildlife offers it online at www.wildlifedepartment.com and calls it a "Texoma License". All Oklahoma licenses are good until December 31.
Texas calls it both a "Texoma License" and a "Type 208 License", and has online licenses available at https://tpwd.texas.gov/.  Texas fishing licenses are valid from September 1 to August 31, while the Texoma License is only valid January 1 to December 31 regardless of what state your general fishing license is in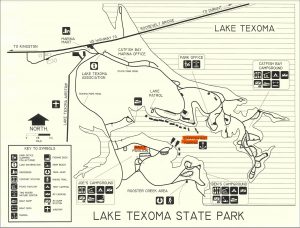 LAKE OFF LIMITS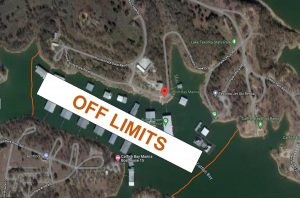 WEIGH-IN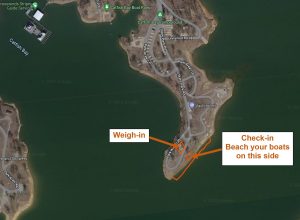 You MUST BE CHECKED IN by your scheduled time. We have our own weigh-in bags so please be sure to get one of our bags when you check-in. Scales close at 3:45pm both days. IF YOU ARE NOT WEIGHING-IN, PLEASE TEXT DONNIE AT THE NUMBER ON YOUR BOAT CARD.
SATURDAY                             SUNDAY
Check-in Times                       Check-in Times
1-25 – 3:00 pm                        26-49 – 3:00 pm
26-49 – 3:10 pm                      1-21 – 3:10 pm
We sent an email out asking for your input on an idea we had to open this season up. We had great response and we appreciate your replies. We had a few who asked that we open it up, but overwhelmingly the response was to keep this season as we promised. With that, we are moving forward as promised. As we explained before, although we are seasoned in tournament organization, but this type of circuit is different than anything advertised and we sincerely want to get it right.
TTO ProTeam 2022
Our decision is final and we are not going to open up the tournaments. Registration closes on August 28th and whatever the field is on that date is the field that we will move forward with as promised.
We have had some of you referring your friends and we did have a few more sign up over the past few days and that's very exciting! We want to encourage you to continue to let everyone know who may be interested in getting involved this year that there's still time to get in! We'd love to have them join us.
This Tournament has already started. Registration for this Tournament is closed.