Lake Texoma Tournament
August 28 & 29, 2021
---
Tournament Details
---
IF we do not have a full field, we will allow balances to be paid up through August 17th.  No new registrations will be accepted after August 17th. The field will be complete with the number of entries at that date. Teams that are pre-registered but do not pay the required balance for this event by August 17th, will be scratched from this event. Those teams will still be included in the secured spots for the remaining tournaments and will be asked to pay the balance for each one as they come up.
MARINA: CATFISH BAY (Kingston, OK)
Off Limits begins 11:59 pm August 17th. Official practice days are Thursday, August 26th, from 6:00 am – 7:00 pm, and Friday, August 27th, from 6:00 am – 5:00 pm. Teams must be off the water by the scheduled time each day.
Substitutions

You are allowed one substitute for the season.
If you have a substitution, please email Pamela Wilson at pamel.wilson@tto-tx.com with your substitution's name, email, and phone number. We want to be sure that we have contact information should we need to notify teams of anything during the tournament.

Off-Limits

Off-limits begins 11:59 pm August 17th. You may not be on tournament waters for any reason.
During the official off-limits period, no team shall be on tournament waters for any reason. No team may walk the shoreline, access any structure that is open to the water, or use any kind of aviation fly-overs, including the use of drones.

No-Info Rule

Other than using publicly available information (e.g. newspaper reports and internet reports) No fishing information may be purchased, bartered, solicited, or received from any person who entered official tournament waters during the established off-limits period.
For full copy of the rules, please check the website at https://tto-proteam.com/rules/

Saturday and Sunday

Controlled take-off from Catfish Bay Marina
We will have the National Anthem and a prayer, and then release you by boat number.
All-day parking is $10 and can be paid via the Park's app. There are signs throughout the park with the information needed.
If you are camping at the Park, you will not need to pay the parking fee (it's included in your camping fees).

Fishing License

You MUST be licensed to fish Texoma by either having both Texas and Oklahoma fishing licenses
OR, Lake Texoma fishing license

The easiest way to buy a Lake Texoma Fishing License (Type 208) is online, and it is provided by both states. You can purchase a lake Texoma Fishing License online or at retailers such as Walmart, Academy, and other fishing tackle and bait shops close to and around the lake in either state. No matter where you buy one, it costs $12 and is valid until December 31.
Oklahoma Department of Wildlife offers it online at www.wildlifedepartment.com and calls it a "Texoma License". All Oklahoma licenses are good until December 31.
Texas calls it both a "Texoma License" and a "Type 208 License", and has online licenses available at https://tpwd.texas.gov/.  Texas fishing licenses are valid from September 1 to August 31, while the Texoma License is only valid January 1 to December 31 regardless of what state your general fishing license is in.
---
---
Registration
This Tournament has already started. Registration for this Tournament is closed.
You must be pre-registered to sign up for a tournament. Please Pre-Register first.
If you have already pre-registered, you may Login To Sign Up For the Tournament
---
Results
---
Winner: Nolan Jackson & Drew Sloan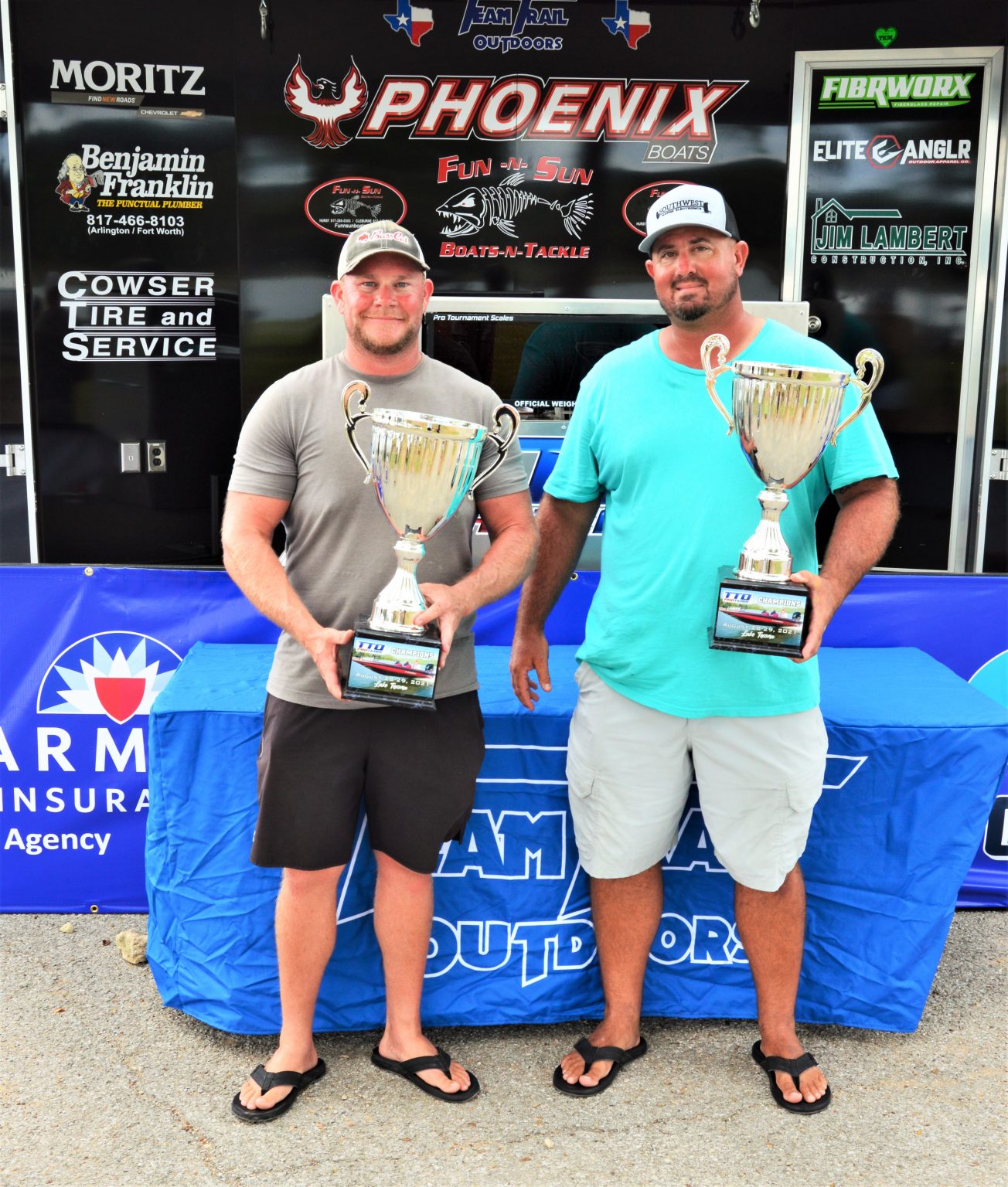 View Day 1 Results
View Full Results
© Copyright 2021 Team Trail Pro-Team, Inc, All Rights Reserved. | Website Design by WABW Media Group